Ink Colors / Printing Process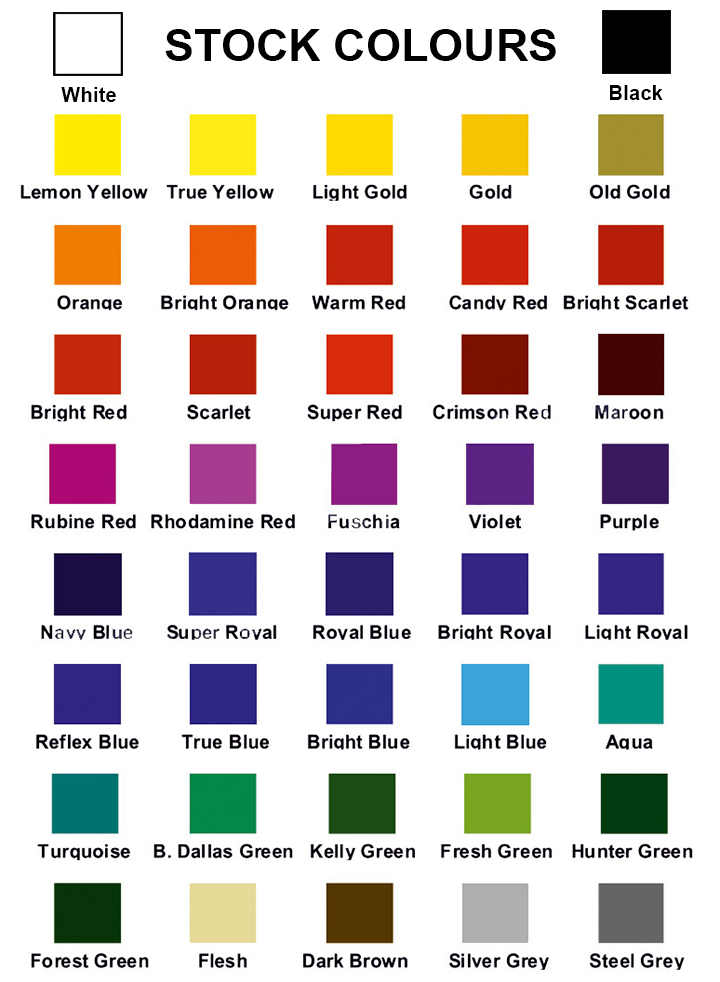 For more information on our Screen Printing services, click here.
SETUP
| | | |
| --- | --- | --- |
| # OF INK COLORS | QUANTITY PER GRAPHIC | SET UP |
| 1-3 | 0-24 | $30/screen |
| 1-3 | 25+ | $0 |
| 4-7 | 0-50 | $30/screen |
| 4-7 | 50+ | $0 |
* Each ink color in your graphic requires an individual screen
**Print minimums will be determined once high resolution graphic & order details are received. the above is for guideline purposes only.
***50 piece minimum on Direct To Garment printing.
TAG PRINTING
Minimum of 12 garments per size being printed. For example, if you get tags printed you need to get a minimum of 12 per size. Small-12, Medium-12, Large-12, XL-12.
OVER/UNDER RUN
Please account for 2% of your order to be short or extra. We try very hard to make each order perfect, but screen printing has many different factors that can sometimes affect the number of garments received. Keep this in mind when ordering.
SCREEN PRINTING OVER POCKETS, SEAMS, ZIPPERS, ETC.
To get the best quality print when screen printing, we need as flat of a surface as possible between the pallet on the press and the screen. The front and back of shirts are consistently smooth and the same thickness which allows us to get a perfect print every time. When you print over a seam/pocket/zipper, it creates an inconsistency as these are thicker portions of the garment. For hooded sweatshirts, we do have special pallets that have indentations for the zipper and pocket seams but not every sweatshirt is exactly the same. When you print over these portions of garments, it creates a gap in the print where the ink in the screen does not hit the shirt due to the ridge caused by the seam. It looks something like this:
We do our absolute best to give you the highest quality print possible, but when a garment goes over the seams, we cannot accept responsibility for any negative effects caused by this issue.